Hear ye! Hear ye!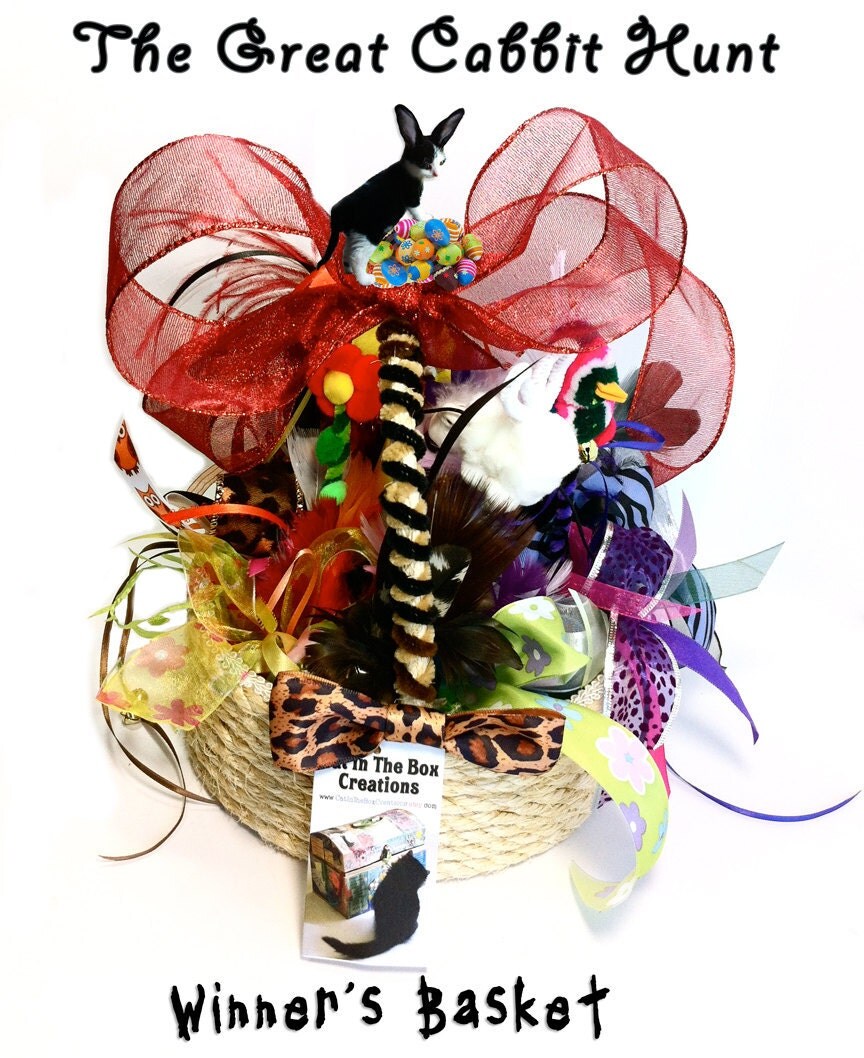 "An online search for an Easter Cabbit (cat + rabbit = cabbit) hiding somewhere in the pictures found in my Etsy store. Somewhere in one of the product pictures in my store exists Molly, a black and white cabbit standing on a pile of Easter eggs. Once you've located Molly, come back here and email me the following information: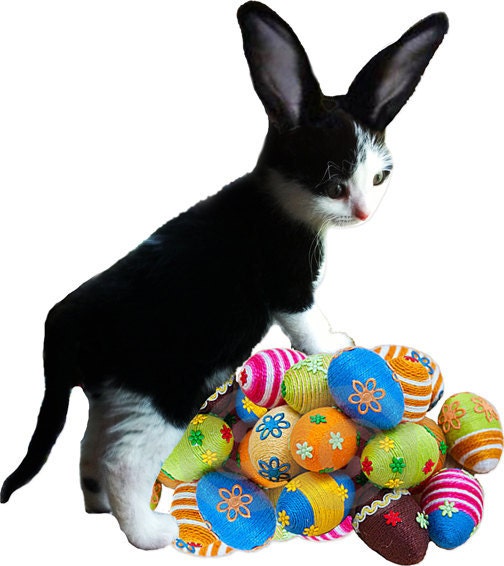 ✔ WHEN & WHERE did you find Molly specifically?
"My name is Jane LookieLue and I found Molly the cabbit on picture #4 of the red high heel leg today, 3/8/12. My email address is JaneLookieLue@lovetohuntcabbits.com."
Molly the Cabbit will move at random intervals during The Great Cabbit Hunt to prevent her hiding spot from being revealed or posted on cheater websites. Remember to check the facebook fan page to read "Molly's hippity hup'dates;" whenever she moves she'll reveal her most recent hiding spot and on rare occasions will throw out a hint along the way. The FB fan page will play a big role in getting you closer to a prize now valued over $160, so be sure to 'like' it and check its wall every few days.
The contest begins Thursday, March 1st at 12:01am Central and ends Sunday, April 8th at 11:59pm Central. The winner will be randomly selected from the correct answers submitted and will be announced on facebook fan page and here at www.catintheboxcreations.com no later than April 18th.
No purchase necessary to enter. Void where prohibited. For legal reasons this contest is open to US residents 18 year of age or older.. One entry per person for each of the cabbit's hiding spots.

Any cheating (using multiple email addresses for 1 person, obtaining Molly's location through cheating websites, etc) will automatically void all your entries, so just don't do it.

During the hunt you will have between 12 and 18 opportunities to enter.
The information you provide me for this contest (full name, email address & mailing address for the winner) will be stored in a secure place and destroyed immediately at the end of the contest. So no worries, I won't sell your email to that Nigerian prince who's been emailing me about some... money transfer thing?
xo ~ Mad